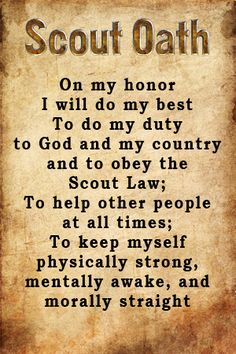 Scout Oath (aka: Scout Promise)
On my honor, I will do my best


To do my duty to God and my country and to obey the Scout Law;

To help other people at all times;

To keep myself physically strong, mentally awake and morally straight.
Four Key Duties
Edit
It is especially worthy to note the four principle duties of a scout and the priority they are given:
Also note that to Obey the Scout Law, is part of your duty to God and country.
Principles of the Oath
Edit
On My Honor
Edit
Do My Best
Edit
Duty to God
Edit
Duty to Country
Edit
Obey Scout Law
Edit
Obedience to true principles of good living standards.
Help Others
Edit
Physically Strong
Edit
Mentally Awake
Edit
Morally Straight
Edit
Related Links
Edit