Orange County Council is a local council of the Boy Scouts of America and serves Orange County, California. It is one of the 20 largest councils by traditional membership in the nation. In 2008 it had over 40,000 youth members. See also Scouting in California.
Founded in 1920 as the Orange County Council, the council was formed by the merger of the North Orange Council (#037) and the Orange Empire Council (#039) in 1972. The North Orange Council was founded in 1944 as the Northern Orange County and changed its name to North Orange in 1965.
Districts
Edit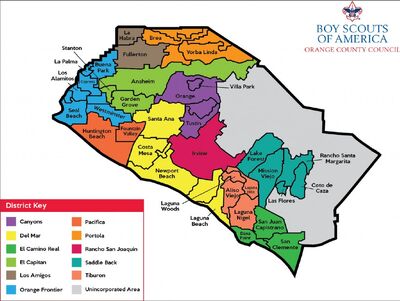 Each District coordinates scout leader training. activities and other resources for community based scouting programs. This council is divided into 2 Districts:
Council Camps
Edit
Orange County Council Camps feature many resources for organizing exciting outdoor adventure group activities and are available for rental by scout groups, families and other youth groups. Some camps feature an organized week long campership program during summer months.
Council Special Events
Edit
Council Scout Fair
Wood Badge
University of Scouting
Order of the Arrow
Edit
Order of the Arrow is the National Honor Society of Scouting and recognized those who uphold the scouting ideals of camping, service and citizenship.
Wiatava Lodge #13 is the OA Lodge for this council. This is the home lodge of the National Chief of the Order of the Arrow, Evan Chaffee, in 2007.
Eagles Nest
Edit
Noteworthy scouts and service projects of the council:
External Links
Edit
ocbsa.org - Official Website of Orange County Council
Ad blocker interference detected!
Wikia is a free-to-use site that makes money from advertising. We have a modified experience for viewers using ad blockers

Wikia is not accessible if you've made further modifications. Remove the custom ad blocker rule(s) and the page will load as expected.