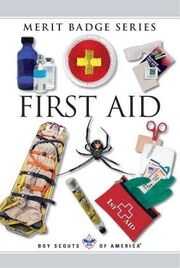 Merit Badge Pamphlets are the quick answer keys for every merit badge!
Merit badge pamphlets are one of the easiest and most efficient ways of getting help on merit badges. In fact the Boy Scout Requirements state:
" You should read the merit badge pamphlet on the subject. " — Boy Scout Requirements p. 22
Since 2008, Merit Badge pamphlets (books) are in full color. The pages are glossy to better stand up to use outdoors. Color charts, graphs, diagrams, tables, and pictures are on almost every pages. Answers can be quickly found to almost every question.
Merit Badge books are short and to the point. Experts from across the US donate their time to edit and update each one. Some contributors are very famous such as Eagle Scout Stephen Spielberg who worked on Cinematography.
About 20% of merit badge requirements are revised each year, so many of the merit badge books in your troop library might be out of date. The books at your local library are probably equally out-of-date. In some cases, health or safety standards have changed making the information in the out-of-date books even dangerous. For instance, recent CPR changes have effected requirements in many merit badges.