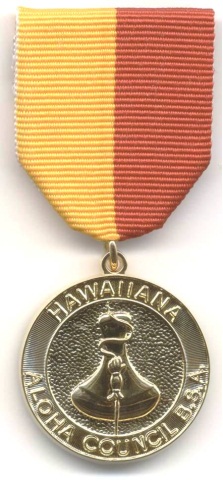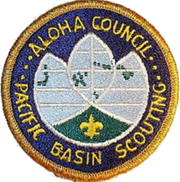 Hawaiiana Award - dedicated to the perpetuation of the skills crafts and legends of old Hawaii. Since 1973 it has been offered continuously by the Aloha Council to its members and Scouts visiting the Hawaiian Islands.
The requirements for Hawaiiana include the composition of a 750 word essay on the pre-European history of the Hawaiian people; the collection of at least five representative leaves or flowers of native fauna from four specific zones of the island; the development of a sketchbook detailing five native birds; the recitation of the Scout Oath, Law, Motto and Slogan in Hawaiian and offer its English translation; the recitation of twenty five Hawaiian place names and their meanings; the recitation of 25 common Hawaiian terms and their meanings; participation in a series of Hawaiian games; participation in six methods of Hawaiian cooking; preparation of traditional foods without cooking; the demonstration of a Hawaiian method of fishing; the construction and demonstration of a number of Hawaiian implements; the oral recitation of names and facts surrounding five famous Hawaiians from the years before 1779; the demonstration of two forms of hula and accompanying chants; the conduct of a Hawaiian play; visitation to at least two historical sites and the completion of a report detailing the visit.
These broad and comprehensive requirements are detailed in the 168 page guidebook published by the Aloha Council and available at the Council offices. The Hawaiiana award itself is in the form of a base metal medal with polished highlights suspended from a red and gold ribbon, featuring a poi pounding stone with a flaming torch in front. There is also a corresponding 3" embroidered patch that may be worn on the right pocket of the Scout shirt.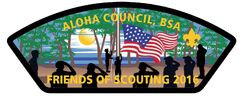 Aloha Council is a local council of the Boy Scouts of America is headquartered in Honolulu, and supports Scouting units around the Pacific Basin. The Aloha Council encompasses Hawaii, Guam, American Samoa, the Northern Marianas, the Marshall Islands, Micronesia and Palau. The Aloha Council covers the largest geographical area in the world, over 8,000,000 square miles (21,000,000 km2), spanning 3,000 miles (4,800 km) on both sides of the equator and international dateline. See also Scouting in Hawaii.
Ad blocker interference detected!
Wikia is a free-to-use site that makes money from advertising. We have a modified experience for viewers using ad blockers

Wikia is not accessible if you've made further modifications. Remove the custom ad blocker rule(s) and the page will load as expected.