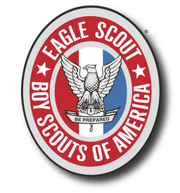 Eagle Scout is the highest rank in the Boy Scouts of America.
The rank of Eagle Scout is earned by a youth (under the age of 18) who sucessfully earns at least 21 merit badges, including 12 of the required merit badges. An Eagle Scout must also successfully complete a project, which serves the community, and demonstrates their leadership skills.
Ad blocker interference detected!
Wikia is a free-to-use site that makes money from advertising. We have a modified experience for viewers using ad blockers

Wikia is not accessible if you've made further modifications. Remove the custom ad blocker rule(s) and the page will load as expected.