Coral Pink Sand Dunes in Kane County, Utah, located between Mount Carmel Junction and Kanab, south and west of U.S. Highway 89 in southwestern Utah. The park features coral-hued sand dunes located beside red sandstone cliffs.
Overview
Edit

This park is administered by Utah State Parks which is a division of Utah Department of Natural Resources. Discover the beauty and history found in the many State parks of Utah. A wide variety of great activities are available including over 2000 campsites.
See also Scouting in Utah.
Local History
Edit
Wildlife and Nature
Edit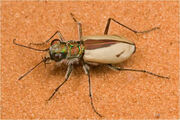 The Coral Pink Sand Dunes tiger beetle is an insect species that is endemic to the dunes, being found nowhere else in the world.
This state park contains most of the remaining individuals of a rare plant, Welsh's milkweed, a federally listed threatened species.
Trailheads
Edit
Park Recreation
Edit
Park Headquarters
Edit
External Links
Edit
References
Edit
National Parks of America - an informative and gorgeous tour of all 59 parks with our lavishly finished hardcover gift guide packed with detailed itineraries and practical tips on what to do and see in each park (2016 - Parks 100th Anniversay Edition)
State Parks of Utah - the state parks are so rich in history, varied in beauty, and abundant in recreational opportunity.
Utah's National Parks - 50 popular short hikes where each holds some of the most awe-inspiring geology on the planet. Each park offers visitors the dramatic scenery that invites exploration and discovery.
Ad blocker interference detected!
Wikia is a free-to-use site that makes money from advertising. We have a modified experience for viewers using ad blockers

Wikia is not accessible if you've made further modifications. Remove the custom ad blocker rule(s) and the page will load as expected.